Use bodivis home-use smart scale to monitor body composition every day.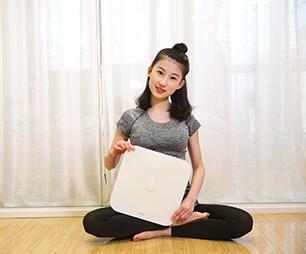 Check body composition report on your cell phone and get tailored nutrition & exercise advice from bodivis APP.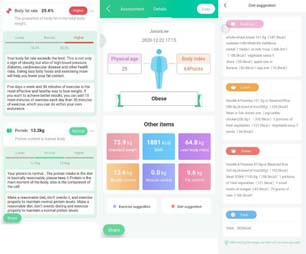 Eat & exercise according to our dietary and exercise plan and you'll become healthier day by day.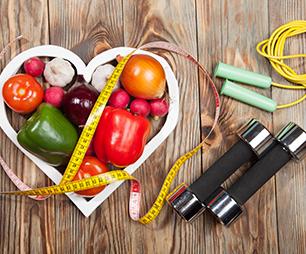 What are the applicable people detected by the personal health monitor?
1. People in need of health management: regular body composition tests can timely understand the body moisture, muscle, fat, body fat percentage, visceral fat and other values, and carry out nutritional intervention for people with high incidence of chronic diseases, so as to reduce the occurrence of chronic diseases.
2. Obese people: through the BMI, body fat percentage, waist-to-hip ratio and visceral fat area measured by body composition analyzer machine, obesity was accurately diagnosed, invisible obesity, abdominal obesity and visceral fat obesity were judged, and the missed diagnosis rate of obesity was reduced.
3. Middle-aged and elderly people: bone mineral content (BMC) can be used to evaluate bone mineral content and muscle mass, which is helpful to the preliminary screening of osteoporosis.
4. sick people: the muscle content of the human body, especially the muscle mass of the lower extremities, is closely related to the prevalence rate of diabetes. In addition, the body fat content can be measured at different levels to determine whether there is abdominal obesity and to better predict the occurrence of diabetes. Through body composition analysis, phase angle or somatic cell quantity can be provided to analyze the degree of malnutrition in patients with liver cirrhosis. In addition, the edema state and severity of patients with liver cirrhosis can be evaluated by extracellular water ratio.
5. Rehabilitated people: the muscle mass provided by fitness health monitor has a wide range of applications, and objective data can be used to confirm the changes of muscle mass increase while body fat decreases through aerobic exercise and strength training.